Differences Between Extrusion and Injection Molding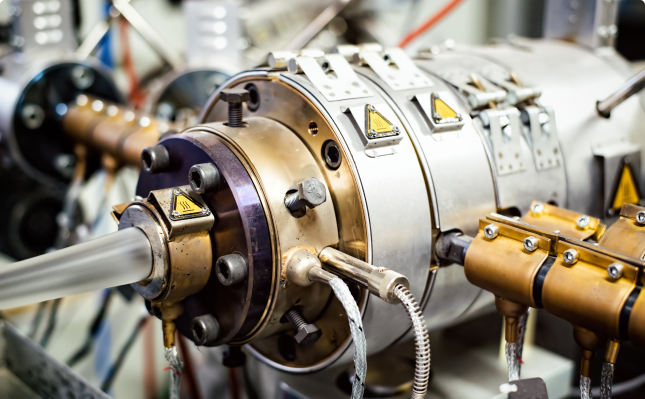 Creating plastic parts for commercial and medical applications requires different processes, dependent on shape and usage requirements.
Extrusion creates continuous linear part with a constant cross-section; injection molding produces three-dimensional shapes. The final shape required for a part dictates the process used, but both extrusion and injection molding have their benefits.
Extrusion
Material is heated and forced through an opening cut into series of metal plates with a shape similar to the final product, creating a continuous form that can be stretched and then cooled to shape before cutting to length. Examples: tubing and window profiles.
Extrusion is ideal when a variety of lengths of a constant cross-section is required. By producing stock with a continuous production process, setup and die costs are lower when compared to injection molding where a unique mold would be required for each length.
Crafted Plastics manufactures custom plastic extrusions in an extensive selection of plastic materials, including:
ABS
Acrylic
Butyrate
Flexible & Rigid PVC
PETG
Polycarbonate
Polyethylene
Polypropylene
Polyurethane
Styrene
Thermoplastic elastomer
Injection Molding
Molten material—typically thermoplastic polymer—is injected into a mold to create a solid shape. Examples: plastic combs and three-dimensional objects with openings, such as crates. Injection molding typically has a higher initial cost given the complexity of the mold structure, but the process creates a finished piece that doesn't require assembly or secondary processing.
Crafted Plastics has served the plastics extrusion needs of manufacturers and distributors worldwide since 1982. Whether it's a basic extruded profile or a more complex profile, our commitment is to produce custom extrusions that meet your specifications.
Crafted Plastics has built its reputation on producing extruded plastic profiles and plastic tubing that meet the specifications and quality standards of our customers. We offer single extrusion, co-extrusion, and tri-extrusion production along with many value-added processes either in-line or off-line.
Crafted Plastics offers in-house engineering to help with material selection and tool design. Most of our extrusion dies and tooling are made onsite by our team.
During our extrusion process we offer the following value-added steps:
In-line Punching
Bagging
Printing
Film, Foam & Magnetic Tape Application
Secondary operations complement our extrusion operation. Secondary operations include forming, notching, punching, piercing, drilling, tight tolerance sawing and other assembly capabilities.
Please contact us for more information or to start your next project.