Custom Plastic Extrusion
Creating and producing custom plastic extrusions to the highest possible standards requires unique skills and talents. We invest heavily in research and development to offer the most advanced industry-leading processes. Whether you're looking for simple plastic tubing or a complex extruded profile requiring tight tolerances, we are your experts.
Capabilities
Our expertise provides for an extensive range of uses—producing profiles from 1/8" to 7" in a variety of raw materials. For hollow sections and complex plastic profiles, Crafted Plastics' downstream sizing techniques produce precise dimensions and tolerances.
Among the techniques we offer:
CO-EXTRUSION: used to join two materials or colors in one part.
TRI-EXTRUSION: used to combine three materials or colors in one part.
DUAL DUROMETER: used when the same type of plastic but with different hardness is combined, such as flexible and rigid, or when different opacities are used in combination to make one part.
VALUE-ADDED IN-LINE OPERATIONS: During the extrusion process we can add printing, tape (film, foam or magnetic) and in-line punching when possible to provide the customer with a finished product.
VALUE-ADDED SECONDARY OPERATIONS: 
Once a custom plastic extrusion is complete, other operations are available—including forming, notching, punching, piercing, drilling, CNC routering and close-tolerance sawing.   
CNC ROUTERING FOR NON-EXTRUDED PRODUCTS: 
We have the capabilities to fabricate plastic sheet stock and wood using our 144" X 80" table.
3-D PRINTING:
If you are needing prototypes, fixturing or a mating part to prove a concept, we can provide this at a reasonable cost using FDM 3-D printing. Accuracy of +/-.008.
Materials
Our custom extrusions are available in a variety of plastics:
ABS
Acrylic
Butyrate
PETG
Polycarbonate
Polyethylene
Polypropylene
Polystyrene
Polyurethane
Rigid and Flexible PVC
Thermoplastic elastomer (TPE)
Thermoplastic rubbers (TPR)
Crafted Plastics partners with manufacturers and distributors all over the world to develop high-quality custom plastic extrusions at the best possible price. Our industry-leading innovation and commitment to quality result in custom extrusion parts manufactured to the most exacting standards.
Get in touch to learn more or to begin your next project.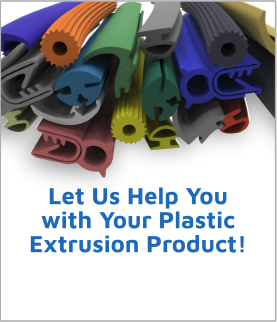 Contact Us