Extensive Plastic Extrusion Capabilities
We partner with manufacturers and distributors all over the world to develop high-quality custom plastic extrusions at the best possible price. Our industry-leading innovation and commitment to quality result in custom extrusion parts manufactured to the most exacting standards.
Teaming up with the specialists at Crafted Plastics, customers improve effectiveness and performance in their manufacturing.
We can take virtually any customer concept and produce the custom plastic extrusions to spec. From the simplest to the most complex extruded plastic tubing or extruded profile, Crafted Plastics manufactures quality custom extrusions on schedule and at a reasonable price every time.
Our expertise provides for an extensive range of applications—producing profiles from 1/8" to 7". Crafted Plastics' downstream sizing techniques produce precise dimensions and tolerances.
Among the services we offer:
CO-EXTRUSION
TRI-EXTRUSION
DUAL DUROMETER
VALUE-ADDED IN-LINE OPERATIONS:
During the extrusion process we can add printing, tape (film, foam or magnetic) and in-line punching.
VALUE-ADDED SECONDARY OPERATIONS:
Once a custom plastic extrusion is complete, other operations are available—including forming, notching, punching, piercing, drilling, CNC routering and close-tolerance sawing.   
CNC ROUTERING:
We have the capacity to fabricate plastic sheet stock and wood using our 144" X 80" table.
3-D PRINTING:
If you require a prototype, fixturing or a mating part to prove a concept, we can provide this using FDM 3-D printing. Accuracy of +/-.008.
Our custom extrusions are available in a variety of plastics: 
ABS
Acrylic
Butyrate
PETG
Polycarbonate
Polyethylene
Polypropylene
Polystyrene
Polyurethane
Rigid and Flexible PVC
Thermoplastic elastomer (TPE)
Thermoplastic rubbers (TPR)
Crafted Plastics can work from a rough sketch to design the tool required to manufacture the extruded plastic part you need—as well as offer suggestions on ideal extrusion materials for every application.
Get in touch to learn more or to begin your next project.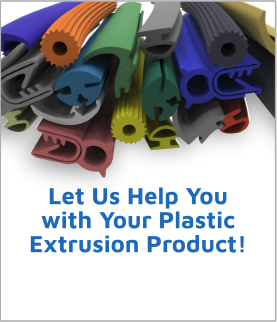 Contact Us